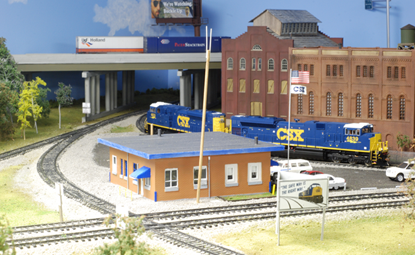 Can be seen in print in Great Model Railroads 2013
Filmed by jjgravy
ohio
Interchange group
What is the Ohio Interchange Group you ask? Well that is quite simple, it's just a group of friends in the area that happen to be model railroaders and have a strong interest in railroad operation. It has been around for over 25 years, and was started in the Mechanicsburg Ohio, by a group of guys who operated on a large basement layout owned by the late Rendel Schedtter. The basis of the system is the use of colored tags placed in car cards and a system of 3 letter codes. The different color tags tell the operator what railroad the car is going to, and the three letter code on the tag tells you what industry it goes to.

To start such a system, is a simple case of getting together with some fellow modelers and developing a system map. We have always enjoyed having a "Mother" layout in the group where all the cars get mingled together, but that isn't a requirement. It can be a simple case of a group of small layouts. Then everyone needs to choose a tag color for their layout. Each member then has to type up a Industry register, listing the Industries names, what they do and cars they handle, and their industry code. If your layout has more than one town the first two letters should represent the town. When switching cars in the yard you need a quick way of seperating the cars by town. Each owner passes out his industry list and tag paper to the other owners. What results is very little expense for each owner.

With 6 or so railroads in the group there is over 8000 cars in the pool to choose from, no train is the same. The most important part is the fact that the guys that have just little switching layouts get to see their equipment run over bigger layouts. We do have some rules that everyone follows so the fleet operates as one, like Kadee #5 couplers, guaged wheels and couplers, metal wheels, and the rule that if the car can't be lived without you should keep it at home. Accidents do happen, damage to today's highly detailed freight cars can result. Transportation cars between layouts are in simple copier paper boxes with foam seperating the layers.

I don't know if I would have built my layout if it wasn't for the interchange. I know you can have a closed system with just your cars, but I have not seen a system I like yet. I can have my layout ready in a couple of hours for a session, and that includes my transport time between layouts. I think enjoying the hobby with others is what I enjoy the most, give it a try.