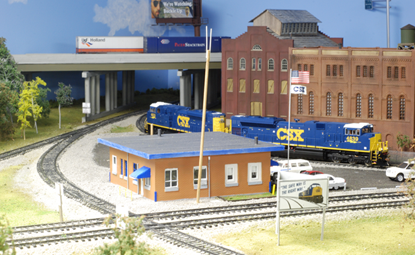 Can be seen in print in Great Model Railroads 2013
Filmed by jjgravy
Welcome
To the CSX
Plymouth Sub.
in HO scale.
The layout is a dream project that I have been wanting to do since I was little. The ability to share a hobby with a bunch of friends is what
model railroading is all about.

I have included some prototype locations on the layout, but the main reason for the layout is our operating group "The Ohio Interchange
Group".

We have been doing this for over 25 years, the actual interchanging of cars between 6 area layouts. My layout is the Eastern anchor of the group, a operating session lasts 3 to 4 hours. After running 20-25 trains, 300 to 400 cars will make their destinations.

I have been working on the layout, for what seems like a long time. Now it's starting to look like something. Hope you enjoy your visit to the site.
Here are just a few of the the model specifications:
| | |
| --- | --- |
| Layout size: | 30ft x 60ft |
| Era: | 2009 to present |
| Location: | Michigan, west of Detroit |
| Benchwork | Open Grid |
| Style: | Linear/Around the wall |
| Mainline length: | 188 Ft |
| Mainline Min radius: | 30" |
| Track: | Atlas code 83 |
| | Atlas code 100 "staging" |
| Roadbed: | Cork on Homosote |
| Roadbed height: | 40" to 63" |
| Max grade: | 2.5% |
| Scenery: | Aluminium screen & Hydrocal soaked paper Towels. |
| Backdrop: | Painted drywall with some photo backdrops. |
| Control System: | Easy DCC |